Beautiful World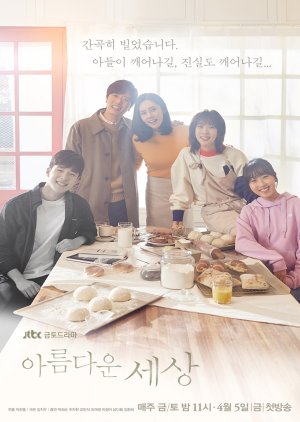 Park Moo-Jin yang diperankan oleh Park Hee-Soon dan Kang In-Ha diperankan oleh Choo Ja-Hyun adalah pasangan yang sudah menikah. Park Moo-Jin bekerja sebagai guru sekolah menengah dan Kang In-Ha mengelola toko roti.
Mereka menikmati hidup mereka dengan anak-anak mereka. Hari-hari damai mereka segera berubah menjadi pengalaman yang mengerikan. Putra mereka, yang berada di kelas 3 sekolah menengah, terluka parah karena kekerasan di sekolah. Park Moo-Jin dan Kang In-Ha mencoba mengungkap kebenaran.
Sementara itu, Oh Jin-Pyo (Oh Man-Seok) dan Seo Eun-Joo (Cho Yeo-Jeong) adalah pasangan yang sudah menikah. Mereka berdua berasal dari keluarga kaya. Oh Jin-Pyo adalah ketua yayasan sekolah swasta yang diwarisi dari keluarganya.
Mereka tidak pernah mengalami kegagalan atau kekurangan apa pun. Mereka memiliki seorang putra yang membuat masalah. Orang tua menutupi untuk kesalahan anak mereka.
Reminders: If a video doesn't load, make sure to turn off your pop-up blocker or try restarting your browser. Beautiful World subbed episode listing is located at the bottom of this page.