Confession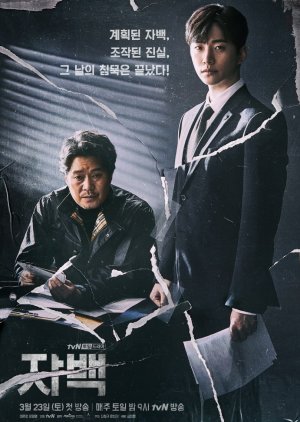 "Confession" adalah drama drama tentang prinsip "non bis in idem" yakni hukuman ganda tentang pembelaan hukum yang melarang seseorang diadili untuk kedua kalinya untuk pelanggaran hukum yang sama.  Sebuah kasus yang melibatkan kebenaran tersembunyi di balik hukum yang melarang bahaya ganda.
Ketika Choi Do-Hyun yang diperankan oleh Lee Joon-Ho masih kecil, ia menderita penyakit jantung. Dia menghabiskan sebagian besar masa kecilnya di rumah sakit. Dia secara ajaib memiliki kesempatan untuk transplantasi jantung. Tepat setelah operasi transplantasi jantung yang berhasil, ayahnya dituduh melakukan pembunuhan.
Title: Thriller, Mystery, Law, Drama, Investigation
Synonyms: Gangnam Seukaendeul
Native: 강남 스캔들
Country: South Korea
Type: TV
Status: Ongoing
Score: 8.5
Year: 2019
Release Date: Mar 23, 2019 - May 12, 2019
Network: tvN
Genre: Drama, Investigation, Law, Mystery, Thriller
Duration: 60 min.
Rating: 15+ - Teens 15 or older
Reminders: If a video doesn't load, make sure to turn off your pop-up blocker or try restarting your browser. Confession subbed episode listing is located at the bottom of this page.