Different Dreams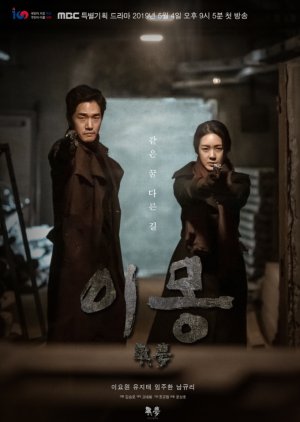 Different Dreams menceritakan sebuah daerah bernama Kyungsung, yang berada di bawah kekuasaan kolonial Jepang dan Shanghai, China.
Seorang ahli bedah Lee Young Jin (Lee Yo Won) merupakan warga negara Korea yang dibesarkan oleh orang Jepang dan kini menjadi agen inteligen pemerintah Korea.
Lee Young Jin terlibat dalam Perang Pasifik yang menyebabkan kekacauan dimana-mana. Sementara Yoo Kim Won Bong (Ji Tae) seorang pemimpin masyarakat yang sedang berjuang untuk kemerdekaan Korea. Kim Won Bong dan Lee Young Jin akan bekerja sama dan melakukan penyamaran.
Title: Different Dreams
Synonyms: Lee Mong , Yimong , Imong
Native: 이몽
Country: South Korea
Type: TV
Status: Ongoing
Score: 8.8
Year: 2019
Release Date: May 4, 2019 - Jul 6, 2019
Network: MBC
Genre: Action, Historical, Medical, Melodrama
Duration: 35 min.
Rating: 15+ - Teens 15 or older
Reminders: If a video doesn't load, make sure to turn off your pop-up blocker or try restarting your browser. Different Dreams subbed episode listing is located at the bottom of this page.
Different Dreams Episodes