Eulachacha Waikiki 2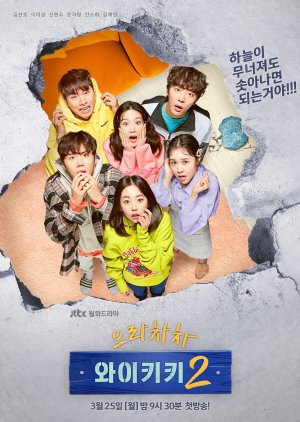 Lee Joon-Ki yang diperankan oleh Lee Yi-Kyung adalah aktor yang tidak populer. Dia menjalankan guest house Waikiki, tetapi guest house tersebut menghadapi kebangkrutan. Untuk menghidupkan kembali wisma, Lee Joon-Ki menyeret teman-temannya Cha Woo-Sik diperankan oleh Kim Sun-Ho dan Kook Ki-Bong (Shin Hyun-Soo), yang semuanya lulus dari sekolah menengah yang sama, untuk berinvestasi di wisma tersebut.
Cha Woo-Sik adalah orang yang pilih-pilih dan dia ingin menjadi penyanyi. Karena Lee Joon-Ki, ia memasukkan semua uangnya ke Waikiki. Kook Ki-Bong dulunya adalah pemain bisbol yang menjanjikan, tetapi dia sekarang bermain di liga minor. Karena Lee Joon-Ki, ia juga memasukkan semua uangnya ke Waikiki. Bersama dengan 3 orang ini, Han Soo-Yeon (Mun Ka-Young), Kim Jung-Eun (Ahn So-Hee) dan Cha Yoo-Ri (Kim Ye-Won) semuanya mulai tinggal di Waikiki.
Title: Eulachacha Waikiki 2
Synonyms: 으라차차 와이키키 두 , Welcome to Waikiki Season 2 , Laughter in Waikiki 2 , Go Go Waikiki 2 , Waikiki 2 , Woohoo Waikiki 2 , Welcome to Waikiki S2
Native: 으라차차 와이키키 2
Country: South Korea
Type: TV
Status: Ongoing
Score: 8.5
Year: 2019
Release Date: Mar 25, 2019 - May 14, 2019
Network: jTBC
Genre: Comedy, Drama, Friendship, Life, Romance, Sitcom, Youth
Duration: 60 min.
Rating: 15+ - Teens 15 or older
Reminders: If a video doesn't load, make sure to turn off your pop-up blocker or try restarting your browser. Eulachacha Waikiki 2 subbed episode listing is located at the bottom of this page.
Eulachacha Waikiki 2 Episodes