Her Private Life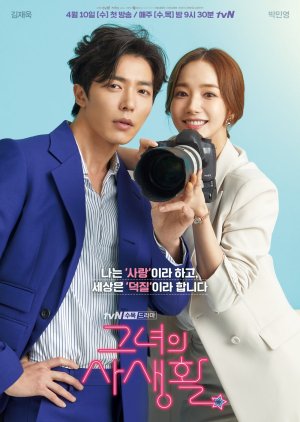 Sebuah komedi romantis tentang kurator galeri berbakat bernama Sung Duk Mi, yang merupakan fangirl idola di bawah lapisan profesionalnya. Sementara itu, bosnya, Ryan, menjadi seorang fanboy yang penuh gairah. Sung Duk Mi menjalani kehidupan ganda sebagai kurator galeri dan tuan rumah untuk penggemar tentang Si An, anggota grup idola. Dia pro dalam kedua aspek kehidupannya, dan karena dedikasinya yang fangirl, Duk Mi harus putus dengan beberapa pacar, alih-alih memutuskan untuk melakukan semua kegiatan fangirlnya alih-alih berkencan. Ryan adalah direktur baru di galeri tempat Duk Mi bekerja. Pernah menjadi pelukis, Ryan adalah sensasi di dunia seni dari debut hingga pensiun, dan sekarang melihat kesuksesan karier sebagai sutradara. Seorang individualis yang terus-menerus, Ryan datang untuk mencari tahu tentang kehidupan ganda Duk Mi. Seri ini didasarkan pada novel web "Noona Fan Dot Com" oleh Kim Sung Yeon.
Title: Her Private Life
Synonyms: Her Personal Life , Geunyeoui Sasaenghwal
Native: 그녀의 사생활
Country: South Korea
Type: TV
Status: Ongoing
Score: N/A
Year: 2019
Release Date: Apr 10, 2019 - May 30, 2019
Network: tvN
Genre: Comedy, Drama, Friendship, Life, Romance
Duration: 60 min.
Rating: 15+ - Teens 15 or older
Reminders: If a video doesn't load, make sure to turn off your pop-up blocker or try restarting your browser. Her Private Life subbed episode listing is located at the bottom of this page.
Her Private Life Episodes