Item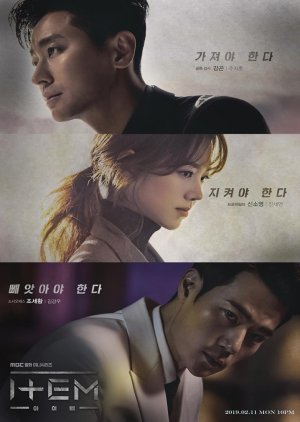 Seorang pria dan seorang wanita mencoba untuk mengungkap konspirasi yang mengitari benda-benda yang memiliki kekuatan gaib.
Kang Gon yang diperankan oleh Ju Ji-Hoon adalah seorang jaksa yang penuh keadilan dan hati yang hangat. Untuk menyelamatkan keponakannya Da-In, dia melompat ke dalam konspirasi yang melingkupi item yang memiliki kekuatan supranatural. Kang Gon bekerja profiler pidana Shin So-Young diperankan oleh Jin Se-Yun.
Title: Item
Synonyms: aitem
Native: 아이템
Country: South Korea
Type: TV
Status: Completed
Score: 7.3
Year: 2019
Release Date: Feb 11, 2019 - Apr 2, 2019
Network: MBC
Genre: Action, Detective, Investigation, Law, Mystery, Psychological, Supernatural, Suspense, Thriller
Duration: 35 min.
Rating: 15+ - Teens 15 or older
Reminders: If a video doesn't load, make sure to turn off your pop-up blocker or try restarting your browser. Item subbed episode listing is located at the bottom of this page.