Kill It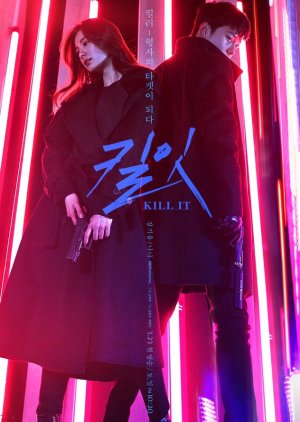 Kim Soo-Hyun yang diperankan oleh Chang Ki-Yong adalah pembunuh elit. Dia membunuh targetnya dan menghilang. Identitasnya seperti ras, usia atau nama tidak diketahui orang lain. Individu, geng, dan organisasi dari seluruh dunia merekrut Kim Soo-Hyun. Jauh di dalam benaknya, dia ingin memiliki kasih sayang dari orang-orang. Sekarang, Kim Soo-Hyun harus membunuh untuk menemukan keluarganya.
Do Hyun-Jin diperankan oleh Nana lulus di puncak kelasnya dari universitas polisi. Dia adalah detektif yang sangat baik yang juga sombong. Dia biasanya berpakaian modis. Do Hyun-Jin tampil sebagai berhati dingin, tapi dia bersimpati dengan mereka yang berada dalam situasi yang menyakitkan. Sekarang, Do Hyun-Jin mengejar Kim Soo-Hyun untuk mengungkapkan misteri terkait kematian kekasihnya.
Title: Kill It
Synonyms: Beullu ai , Beulroo Aizeu , Blue Eye , Blue Eyes , 블루 아이
Native: 킬잇
Country: South Korea
Type: TV
Status: Ongoing
Score: 8.5
Year: 2019
Release Date: 23, 2019 - Apr 28, 2019
Network: OCN
Genre: Action, Crime, Drama, Mystery, Thriller
Duration: 60 min.
Rating: 15+ - Teens 15 or older
Reminders: If a video doesn't load, make sure to turn off your pop-up blocker or try restarting your browser. Kill It subbed episode listing is located at the bottom of this page.