Mirror of the Witch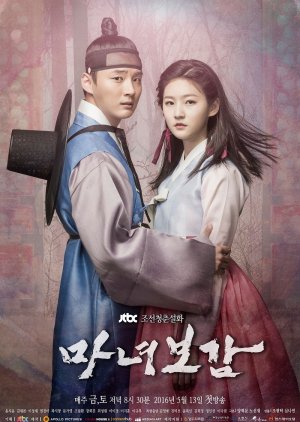 Drama fantasi sejarah tentang seorang pria muda yang menemukan jalan dan cinta untuk seorang putri yang terlupakan. Heo Jun menghadapi diskriminasi sebagai putra tidak sah dan menyerah pada bakat alami, kecerdasan, dan hasratnya untuk akademisi. Mengalah pada batas status sosialnya, ia resor untuk hanya menghasilkan uang sebanyak dia dapat menggunakan ketampanan dan pesona jenaka. Sementara itu, Ratu Sim tidak dapat hamil dan dia mencari bantuan dukun yang ilmu hitamnya memungkinkannya untuk memiliki anak kembar – laki-laki dan perempuan. Namun, putrinya, Seo Ri, diletakkan di bawah kutukan dan ditinggalkan jauh di pegunungan, di mana suatu hari, dia bertemu Heo Jun. Kutukan dari putri yang ditinggalkan adalah bahwa siapa pun yang jatuh cinta padanya akan mati. Seo Ri mencoba menemukan obat untuk kutukannya dan sepanjang jalan, menciptakan perawatan ajaib yang membantu menyembuhkan orang sakit. Sayangnya, Heo Jun secara tidak sengaja membuat buku sihir terbakar, dan dia tetap di pegunungan bersama Seori untuk mencoba membantu menyembuhkan orang sakit di desa pegunungan. Ketika hasrat Heo Jun untuk obat tumbuh, ia memutuskan untuk menjadi dokter. Ketika ia melihat Seo Ri bertarung melawan takdirnya, afinitasnya untuknya tumbuh, dan ia juga mulai percaya bahwa ia dapat mengubah nasibnya. ~~ Berdasarkan dokter paling terkenal di Korea, Heo Jun.
Title: Mirror of the Witch
Synonyms: Manyeo Bogam
Native: 마녀보감
Country: South Korea
Type: TV
Status: Completed
Score: 7.7
Year: 2016
Release Date: May 13, 2016 - Jul 16, 2016
Network: jTBC
Genre: Fantasy, Historical, Medical, Romance, Supernatural, Tragedy
Duration: 1 hr. 10 min.
Rating: 15+ - Teens 15 or older
Reminders: If a video doesn't load, make sure to turn off your pop-up blocker or try restarting your browser. Mirror of the Witch subbed episode listing is located at the bottom of this page.
Mirror of the Witch Episodes