Mother of Mine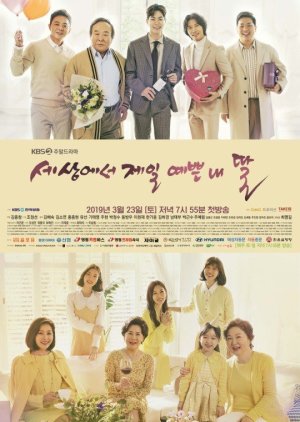 Saat menjalankan sebuah restoran sup daging kecil, Park Sun-Ja membesarkan tiga putrinya Mi-Sun (Yoo-Sun), Mi-Ri (Kim So-Yeon) dan Mi-Hye (Kim Ha-Kyung) sendirian. Dia masih menjalankan restoran sampai hari ini dan ketiga putrinya sekarang sudah dewasa.
Putri pertama Sun-Ja, Mi-Sun menikah dan dia memiliki seorang putri. Mi-Sun sibuk bekerja dan merawat keluarganya. Putri kedua Mi-Ri sangat peduli pada ibunya. Dia percaya diri dan baik dalam pekerjaannya.
Mi-Ri terlibat dalam hubungan romantis dengan rekan kerjanya Tae-Joo (Hong Jong-Hyun). Dia adalah putra bungsu dari keluarga yang memiliki perusahaan. Putri bungsu adalah Mi-Hye. Dia dulu seorang novelis yang menjanjikan, tapi dia tidak lagi. Dia membantu ibunya di restoran.
Title: Mother of Mine
Synonyms: Sesangeseo Jeilchakhan Naeddal , My Daughter Who is the Prettiest in the World , My Daughter is the Kindest , My Daughter is the Prettiest in the World , My Prettiest Daughter In The
Native: 세상에서 제일 착한 내 딸
Country: South Korea
Type: TV
Status: Ongoing
Score: 7.8
Year: 2019
Release Date: Mar 23, 2019 - Sep 8, 2019
Network: KBS2
Genre: Drama, Family
Duration: 40 min.
Reminders: If a video doesn't load, make sure to turn off your pop-up blocker or try restarting your browser. Mother of Mine subbed episode listing is located at the bottom of this page.