My Fellow Citizens!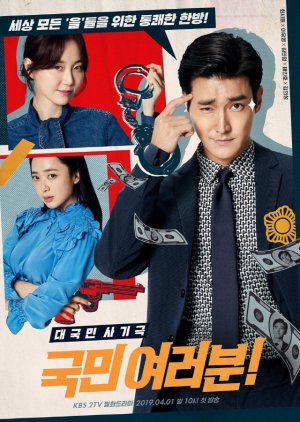 Yang Jung-Kook yang diperankan oleh Choi Si-Won adalah seorang veteran penipu, tetapi dia tidak pernah ditangkap. Suatu hari, pacarnya tiba-tiba lari dengan uang yang akan mereka gunakan untuk pernikahan mereka. Yang Jung-Kook sangat kesal dan dia pergi keluar untuk m1num. Dia bertemu Kim Mi-Young diperankan oleh Lee Yoo-Young.
Dia mengalami masa sulit karena kecurangan pacarnya. Yang Jung-Kook mengatakan kepadanya bahwa ia menjalankan bisnis dan Kim Mi-Young mengatakan kepadanya bahwa ia bekerja untuk sebuah perusahaan kecil. Kim Mi-Young sebenarnya seorang detektif. Mereka menemukan kenyamanan satu sama lain dan mereka mengembangkan hubungan romantis.
Title: My Fellow Citizens!
Synonyms: Kookmin Yeoreoboon , Dear Citizens
Native: 국민 여러분
Country: South Korea
Type: TV
Status: Ongoing
Score: 8.4
Year: 2019
Release Date: Apr 1, 2019 - May 28, 2019
Network: KBS2
Genre: Comedy, Crime, Romance
Duration: 35 min.
Rating: 15+ - Teens 15 or older
Reminders: If a video doesn't load, make sure to turn off your pop-up blocker or try restarting your browser. My Fellow Citizens! subbed episode listing is located at the bottom of this page.
My Fellow Citizens! Episodes