Possessed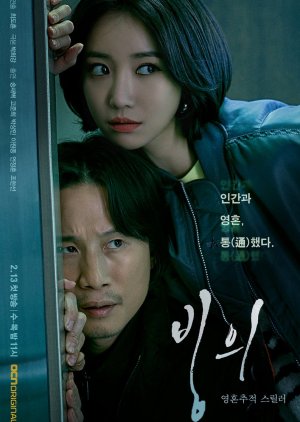 "Possession" adalah kejahatan mutlak yang mengganggu tatanan alam benda-benda dengan memanggil jiwa seorang pembunuh berantai yang dieksekusi 20 tahun lalu, dan dengan memohon jiwa detektif yang awalnya menangkap pembunuh berantai, untuk mengakhiri untuk riwayat kejahatan ini.
Kang Pil-Sung yang diperankan oleh  Song Sae-Byeok bekerja sebagai detektif. Instingnya sebagai detektif sangat bagus dan dia bermulut kotor. Kang Pil-Sung malas dan kasar, tapi dia juga berhati lembut. Hong Seo-Jung diperankan oleh Koh Joon-Hee memiliki kemampuan psikis yang luar biasa, tetapi ia mencoba menyembunyikan kemampuannya.
Hal ini menyebabkan Hong Seo-Jung untuk menjaga jarak dari orang lain dan dia menjalani kehidupan yang sepi. Sementara Kang Pil-Sung menyelidiki sebuah kasus, dia kebetulan bertemu Hong Seo-Jung. Kang Pil-Sung merasa bahwa dia berbeda dari yang lain dan tertarik padanya. Mereka mulai memecahkan kasus bersama menggunakan kemampuan khusus mereka.
Title: Possessed
Synonyms: bingeui , Possession
Native: 빙의
Country: South Korea
Type: TV
Status: Ongoing
Score: 8.0
Year: 2019
Release Date: Mar 6, 2019 - Apr 25, 2019
Network: OCN, Netflix
Genre: Drama, Mystery
Duration: 60 min.
Rating: 18+ Restricted
Reminders: If a video doesn't load, make sure to turn off your pop-up blocker or try restarting your browser. Possessed subbed episode listing is located at the bottom of this page.