Special Labor Inspector Jo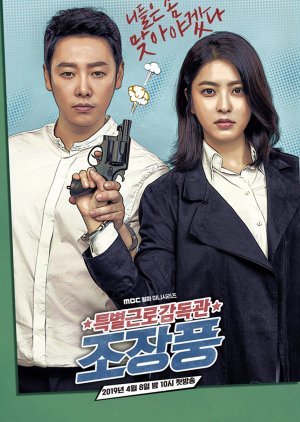 Jo Jin-Gab yang diperankan oleh Kim Dong-Wook pernah menjadi atlet judo yang menjanjikan. Dia memprotes korupsi di sebuah pertandingan dan dia dikeluarkan dari cabang olahraga. Setelah itu, Jo Jin-Gab menjadi guru olahraga.
Sekali lagi, dia tidak bisa mengendalikan amarahnya terhadap putra ketua sekolah. Jo Jin-Gab sekali lagi dikeluarkan dari profesinya. Jo Jin-Gab kemudian berhasil lulus ujian untuk menjadi pejabat publik. Bekerja sebagai pejabat publik, ia tidak perlu khawatir akan dikeluarkan dari pekerjaannya.
Dia mencoba hidup dengan damai, tetapi kemudian dia dipindahkan untuk bekerja sebagai pengawas ketenagakerjaan di Kementerian Ketenagakerjaan dan Buruh. Menghadapi banyak orang yang menggunakan kekuatan mereka secara tidak adil, Jo Jin-Gab kembali ke dirinya yang dulu.
Title: Special Labor Inspector Jo
Synonyms: eukbyeolgeunrogamdoggwan Jojangpoong
Native: 특별근로감독관 조장풍
Country: South Korea
Type: TV
Status: Ongoing
Score: 7.6
Year: 2019
Release Date: Apr 8, 2019 - ?
Network: MBC
Genre: Action, Comedy, Drama
Duration: 35 min.
Reminders: If a video doesn't load, make sure to turn off your pop-up blocker or try restarting your browser. Special Labor Inspector Jo subbed episode listing is located at the bottom of this page.
Special Labor Inspector Jo Episodes