The Fiery Priest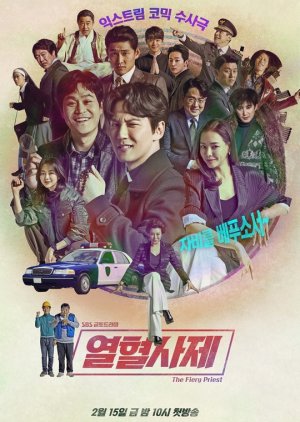 Kim Hae-Il yang diperankan oleh Kim Nam-Gil adalah seorang imam Katolik. Dia membuat komentar dengki dan dia bisa bersikap kasar kepada orang lain. Koo Dae-Young diperankan oleh Kim Sung-Kyun adalah seorang detektif. Dia banyak berbicara dan dia juga penakut. Park Kyung-Sun (Lee Honey) adalah seorang jaksa.
Dia cerdas dan cantik. Dia juga ambisius sebagai seorang jaksa dan pandai dalam pekerjaannya. Imam Katolik Kim Hae-Il, Detektif Koo Dae-Young dan Jaksa Park Kyung-Sun bekerja sama untuk menyelesaikan kasus pembunuhan yang melibatkan seorang imam Katolik senior.
Title: The Fiery Priest
Synonyms: Yeolhyeolsaje
Native: 열혈사제
Country: South Korea
Type: TV
Status: Ongoing
Score: 8.4
Year: 2019
Release Date: Feb 15, 2019 - Apr 20, 2019
Network: SBS
Genre: Comedy, Crime, Detective, Investigation, Mystery
Duration: 35 min.
Rating: 13+ - Teens 13 or older
Reminders: If a video doesn't load, make sure to turn off your pop-up blocker or try restarting your browser. The Fiery Priest subbed episode listing is located at the bottom of this page.
The Fiery Priest Episodes