The Nokdu Flower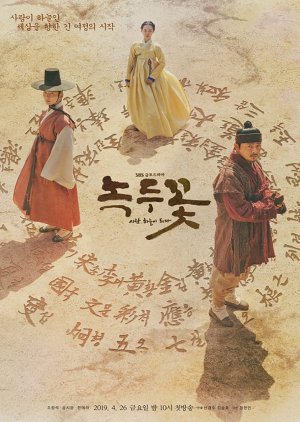 Drama Korea "Nokdu Flower" ditetapkan pada tahun 1894, di mana Gerakan Petani Donghak berperang melawan pasukan tentara Jepang dan Joseon di Mung Bean Flower, sebuah tempat di dekat kota Gongju. Ini menceritakan kisah dua saudara tiri yang harus berperang melawan satu sama lain sebagai petani dan anggota pasukan sekutu penindasan.
Selama Revolusi Petani Donghak yang berlangsung 1894-1895. Dua saudara tiri berperang di sisi yang berlawanan dari pemberontakan ini. Baek Yi-Kang yang diperankan oleh Cho Jung-Seok adalah putra pertama dari keluarga penting. Ayahnya kaya dan dia terkenal sebagai pejabat pemerintah setempat. Tapi, ibu Yi-Kang adalah dari kelas terendah. Karena kelas sosial ibunya yang rendah, orang-orang memandang rendah Baek Yi-Kang.
Song Ja-In diperankan oleh Han Ye-Ri adalah satu-satunya anak perempuan untuk kepala kelompok pedagang besar. Dia adalah pemilik Jeonjoo Yeokak, yang menjual barang dagangan dan juga penginapan. Dia memiliki keberanian, tetap tenang di bawah tekanan dan memiliki karisma. Song Ja-In bermimpi menjadi pedagang terbaik di Joseon.
Baek Yi-Hyun (Yoon Si-Yoon) adalah saudara tiri Yi-Kang yang lebih muda. Dia pintar, tampan, dan sopan. Tidak seperti Yi-Kang, Baek Yi-Hyun tidak dilahirkan di luar nikah. Yi-Hyun memiliki segalanya dan dia memperlakukan saudara tirinya dengan sopan.
Title: The Nokdu Flower
Synonyms: Green Bean Flower , Nokdoo Kkot , Nokdu Flower ,
Native: 녹두꽃
Country: South Korea
Type: TV
Status: Ongoing
Year: 2019
Release Date: Apr 26, 2019 - Jul 13, 2019
Network: SBS
Genre: Drama, Family, Historical, Life, Political
Duration: 35 min.
Rating: 15+ - Teens 15 or older
Reminders: If a video doesn't load, make sure to turn off your pop-up blocker or try restarting your browser. The Nokdu Flower subbed episode listing is located at the bottom of this page.
The Nokdu Flower Episodes