The Secret Life of My Secretary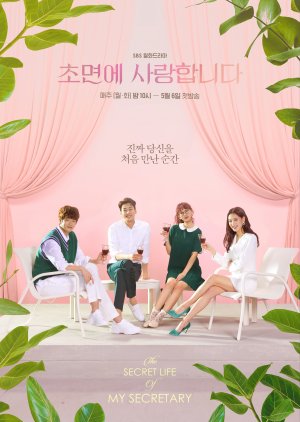 Drama Korea "I Loved You From The Beginning" bercerita tentang seorang pria berhati dingin menemukan identitas aslinya dan akhirnya mulai menghormati orang dengan baik setelah kehilangan penglihatannya. Drama ini juga akan fokus pada romansa antara pria yang bahkan tidak menghormati orang tuanya dan sekretarisnya yang pemarah yang jatuh cinta padanya sambil menipu dirinya.
Kisah asmara antara Do Min-Ik yang diperankan oleh Kim Young-Kwang dan Jung Gal-Hee diperankan oleh  Jin Ki-Joo. Do Min-Ik bekerja sebagai direktur tim media 1 seluler di T&T. Ia cerdas dan luar biasa dalam pekerjaannya. Sekretarisnya adalah Jung Gal-Hee. Do Min-Ik sering melakukan hal-hal kekanak-kanakan seperti memanggil Jung Gal-Hee terus menerus. Jung Gal-Hee melakukan perintah Do Min-Ik tanpa keluhan. Dia terlihat lembut, tetapi dia menyembunyikan sisi tangguhnya.
Title: The Secret Life of My Secretary
Synonyms: I Love You From The Beginning
Native: 초면에 사랑합니다
Country: South Korea
Type: TV
Status: Ongoing
Score: 8.2
Year: 2019
Release Date: May 6, 2019 - Jun 25, 2019
Network: SBS
Genre: Business, Comedy, Drama, Romance
Duration: 35 min.
Reminders: If a video doesn't load, make sure to turn off your pop-up blocker or try restarting your browser. The Secret Life of My Secretary subbed episode listing is located at the bottom of this page.
The Secret Life of My Secretary Episodes